Dark Chocolate Energy Balls are a quick healthy snack for families. Dark chocolate paired with sea salt makes them an irresistible no-bake snack perfect for lunch boxes and weekly snack prepping!
Did you know that salt intensifies your ability to taste the sweetness in sugar?
The dark chocolate and sea salt combination in these dark chocolate energy balls is AMAZING. The sea salt really makes the chocolate flavor pop. No wonder they are so addicting.
Energy balls take just a few minutes to make and can be customized using all sorts of ingredients and flavors. They make a great healthy snack for your family. They are a hit with kids and adults.
Dark chocolate energy balls are simple enough to serve with the least formal lunches (think your kid's bento box), yet elegant enough to serve your guests at parties.
Make a double batch and eat all week or freeze for the weeks you know you and the kids will be extra busy!
Ingredients
All of our energy balls use the same base of 3 simple ingredients— peanut butter, oats, and honey.
To this dark chocolate and sea salt combo, I add cocoa powder, dark chocolate chips, and sea salt. You can also add ground flax and chia seeds, but those are totally optional.
Peanut butter: peanut butter is the glue that keeps the balls together. You can substitute almond butter or other nut butters, although I haven't done this yet. Peanut butter has a ton of protein. (and what kid doesn't love peanut butter!)
Oats: I use old fashioned or quick oats. Old fashioned oats are bigger flakes so they have a heartier texture but either one works great. They are both full of protein, fiber, and minerals like zinc and iron. Because of all these vitamins and minerals, oats keep the belly full for longer!
Honey: honey is an all natural sweetener, which gives the energy balls a hint of sweetness
Cocoa powder: I use unsweetened cocoa powder, which is another great source of fiber, protein, and iron. The bad: it's high in fat. But that's okay! We all need a little fat and energy balls are not meant to be eaten like a bag of chips anyway.
Dark chocolate chips: ah, dark chocolate. My absolute favorite kind of chocolate. Aside from tasting amazing, it is loaded with antioxidants! Use anywhere from ½ to 1 cup, depending on how chocolaty you want your snacks, and you can use morsels, mini's, or chunks.
Sea salt: sea salt is a must! Do not use table salt! Sea salt is produced through evaporation and the minerals that are left behind add an amazing flavor to this salt. I was afraid of sea salt years ago because of its strength, but now that I understand the difference between table and sea salt, it's one of my favorite things. Start small if you're not familiar with it, ½ tablespoon, and add more after tasting.
Chia seeds (optional): I like adding 1-2 tablespoons of chia to most of my energy balls because it is high in fiber, antioxidants, and omega-3s. However, I do not use it in these, for no particular reason. If you don't know if you like chia seeds, start with a smaller amount. Some people don't like the texture when there are too many. When chia is immersed in liquid, a gooey shell forms around the seed, which can feel gooey.
Ground flax (optional): flax is full of omega-3s and cancer-fighting minerals. I love adding flax for this reason, but don't usually use it in these. If you do, the kids won't have a clue it's there, trust me!
Step By Step Instructions
STEP 1: Add all ingredients into a bowl and mix using a spoon. I prefer starting with a spoon and then using my hand. You can use an electric stand mixer on low using a dough hook.
STEP 2: Once you're done mixing, roll the batter into 1 inch balls (approximately 2 tablespoons of batter). You can make them bigger or smaller, but this seems like the rule of thumb for energy ball size.
*If the balls don't stick well, add a little more peanut butter, a few tablespoons at a time.
STEP 3: Put the balls on parchment paper or a plate and chill for a few hours.
You can eat them before they're chilled, if you'd like. I always taste one, give one to the hungry family, and then chill the rest for later. I think they are even better once the batter sets for a bit.
How Long Do Energy Balls Last?
Fridge: for about 2 weeks
Freezer: for about 6 months. To store in the freezer, use a freezer bag to prevent burn.

I highly recommend you freeze these energy balls so you don't eat them all! Seriously, they are so addicting.
Recipe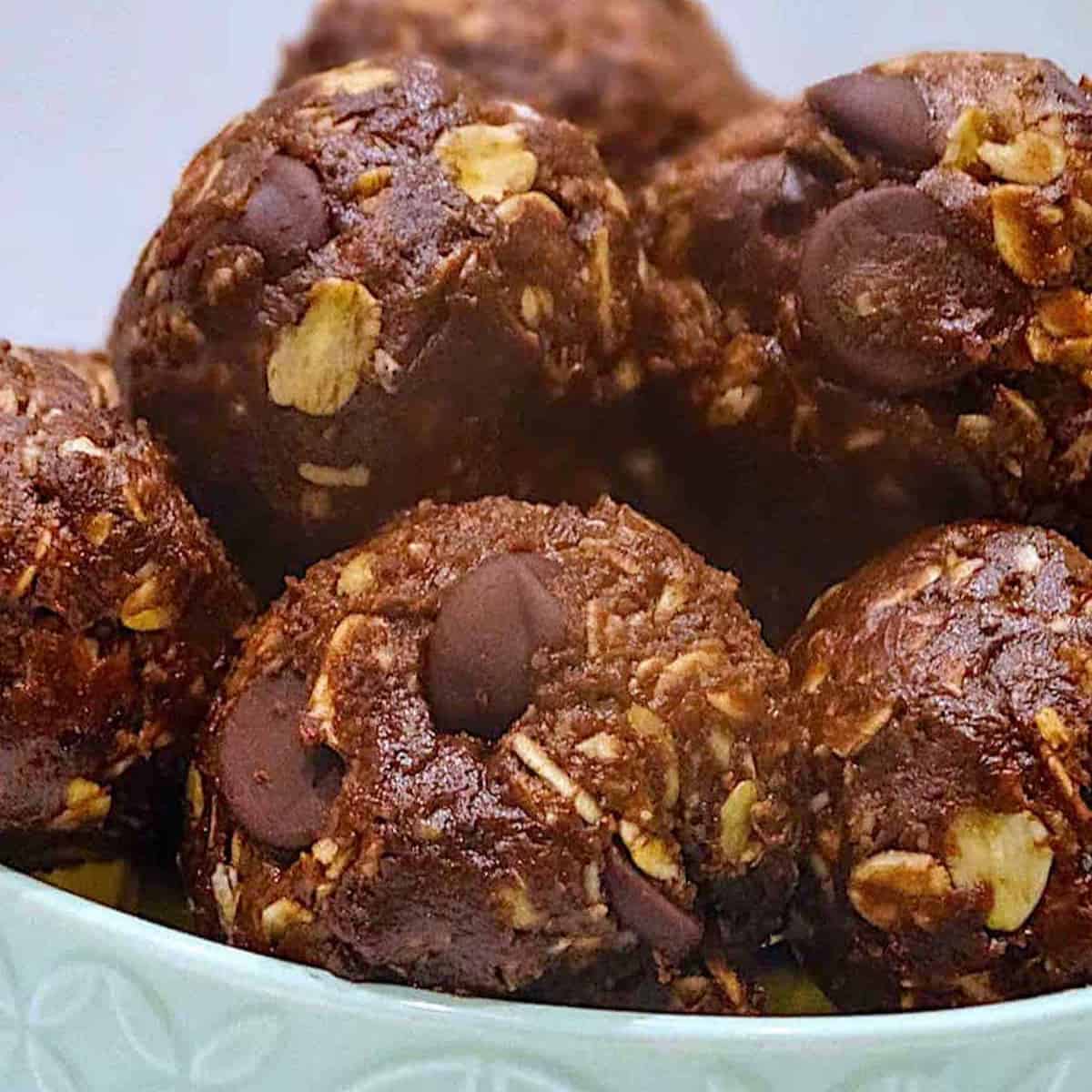 Dark Chocolate Energy Balls
Dark Chocolate Energy Balls made in just minutes using dark chocolate chips, sea salt, cocoa powder, peanut butter, honey, and oats.
Ingredients
1

cup

oats,

old fashioned or quick oats

½

cup

peanut butter

¼

cup

honey

2

tablespoon

cocoa powder

1

cup

dark chocolate chips

2

teaspoon

sea salt
Instructions
Combine all ingredients in a large bowl. Mix by hand or electric mixer until batter sticks to itself. Roll into ½ to 1 inch balls.

Chill for 1-2 hours on a parchment lined baking sheet to set ingredients.
Notes
Store in the fridge for up to 2 weeks or in the freezer for up to 6 months.
Nutrition
Serving:
1
oz
Calories:
129
kcal
Carbohydrates:
14
g
Protein:
3
g
Fat:
7
g
Saturated Fat:
4
g
Polyunsaturated Fat:
1
g
Monounsaturated Fat:
2
g
Cholesterol:
1
mg
Sodium:
300
mg
Potassium:
131
mg
Fiber:
1
g
Sugar:
8
g
Vitamin A:
1
IU
Vitamin C:
1
mg
Calcium:
37
mg
Iron:
1
mg